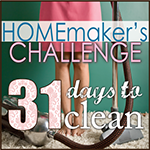 We are getting ready to celebrate fall here in our house! Labor Day is a great day to kick off my fall cleaning projects and this year I am following 31 Days to Clean - Having a Martha House the Mary Way. This is an e-book that I downloaded and will be using to help me get my house in order; nice and cleany-cozy before winter sets in and the holiday decorating commenses. Speaking of which, the boys made some very cute and easy fall decorations this morning, which I will blog about later. Anyway!
So, chapter one of this book challenges me to think of cleaning my home from two perspectives: Mary and Martha. You can read about these women from the Bible to learn more about their experience with Jesus. Mary's Challenge helped me focus on WHY I clean my home. I was encouraged to create a saying that I can read to myself in less than a minute each day as a reminder, then make it pretty and display it somewhere. Here's what I made:
Martha's Challenge was purely practical: Look through all the Martha Challenges in the book and create a list of the supplies that I will need in case I am out of some cleaning products or necessities. Well, lists are definitely something I can do! Off to go make mine now... wish me luck!