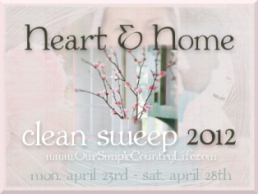 In the mood to do some spring cleaning?
Probably not.
But it would be a really good idea.
I found
this website
recently and love their idea for doing a "clean sweep" of both your heart and your home. The week-long challenge gives you jobs to do in different areas of your house, but above each assignment there is a "heart scrub" ... a devotional of sorts to remind us to clean up our hearts and our minds each day. Go try it out, even if you don't have time to do it this week -- it would still be a blessing both to you and your family any time of the year!
Yesterday I did the Living Room and Entry. It was a great feeling to open the windows wide and put on some music and really get down to it. The room looks so much better. I know that with three little ones it probably won't stay that way for long, but at least I know that under all those toys and clutter there aren't any crumbs or cobwebs or dust bunnies!!!
Today is Kitchen and Dining areas. Here's hoping I can do it!